Machine
The DIGGER D-250 is the 4th generation of our remote-controlled humanitarian demining machines. It is based on our experience gained over more than 20 years in 16 countries, on four continents. It has proven itself in hot and cold climates, in deserts and forests, this little Swiss jewel will not let you down.
Its remote control allows it to be operated from up to 500 metres away in complete safety. With its DIGGER Twin-Picks tiller, the DIGGER D-250 has been successfully tested on anti-tank mines with up to 8 kg of TNT-equivalent by the Swedish Army in CWA 15044 tests. Its oscillating track system ensures much better weight distribution on the ground than a fixed system, significantly improving its all-terrain capability. Powered by a 250 hp John Deere diesel engine, and equipped with a specially designed cooling system enabling it to work at full power at all times in the hottest conditions, it is equipped with a triple air-filter system to protect it from dust.
These are just a few examples. You will find more details below to convince you that this is the machine you never even dared to dream of.
You don't work in the field of demining? No problem, the DIGGER D-250 also conforms to the European safety and emission standards. There's nothing to stop you from putting it to work at one of your sites. Wherever there is danger, it can take the risks for you.
Tools
Like the Swiss Army knife, the DIGGER D-250 is a versatile and dependable toolbox. Four types of tools can be fitted to it for a wide range of applications: DIGGER DTR tools [demining flail or tiller, etc.], Caterpillar tools [backhoes, bucket, etc.], agricultural tools [forest winch, seeder, etc.] as well as tools designed and custom-made by our R&D department to meet your specific requirements.
Rubber track shoes

Costs and return on investment
Contrary to popular opinion, mechanised humanitarian demining – when done properly – is far more cost-effective than manual demining. As with civil engineering companies which invest in construction machinery, this approach proves to be far more economical. As in many areas of industry, the right initial investment lowers operating costs and is far more efficient.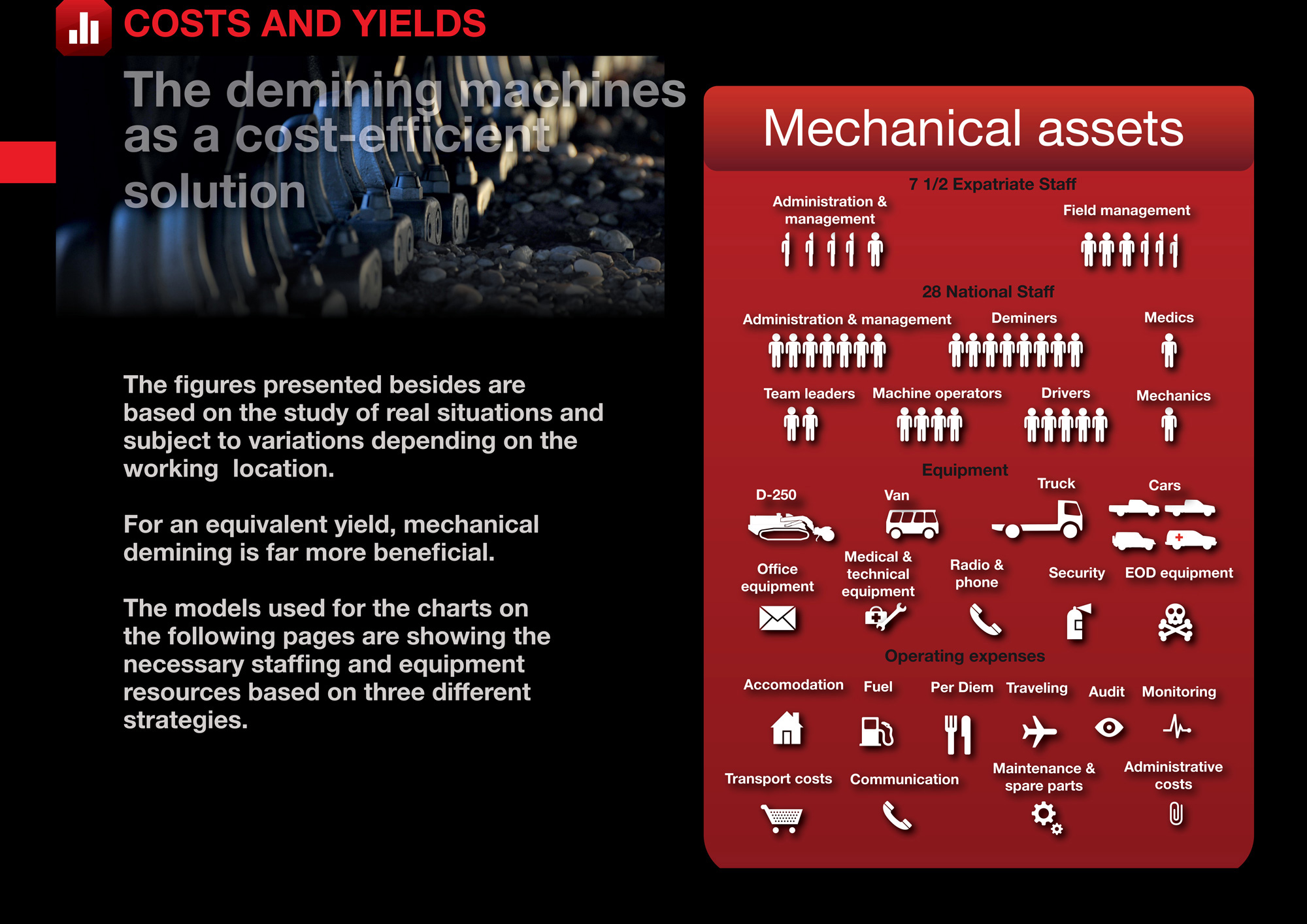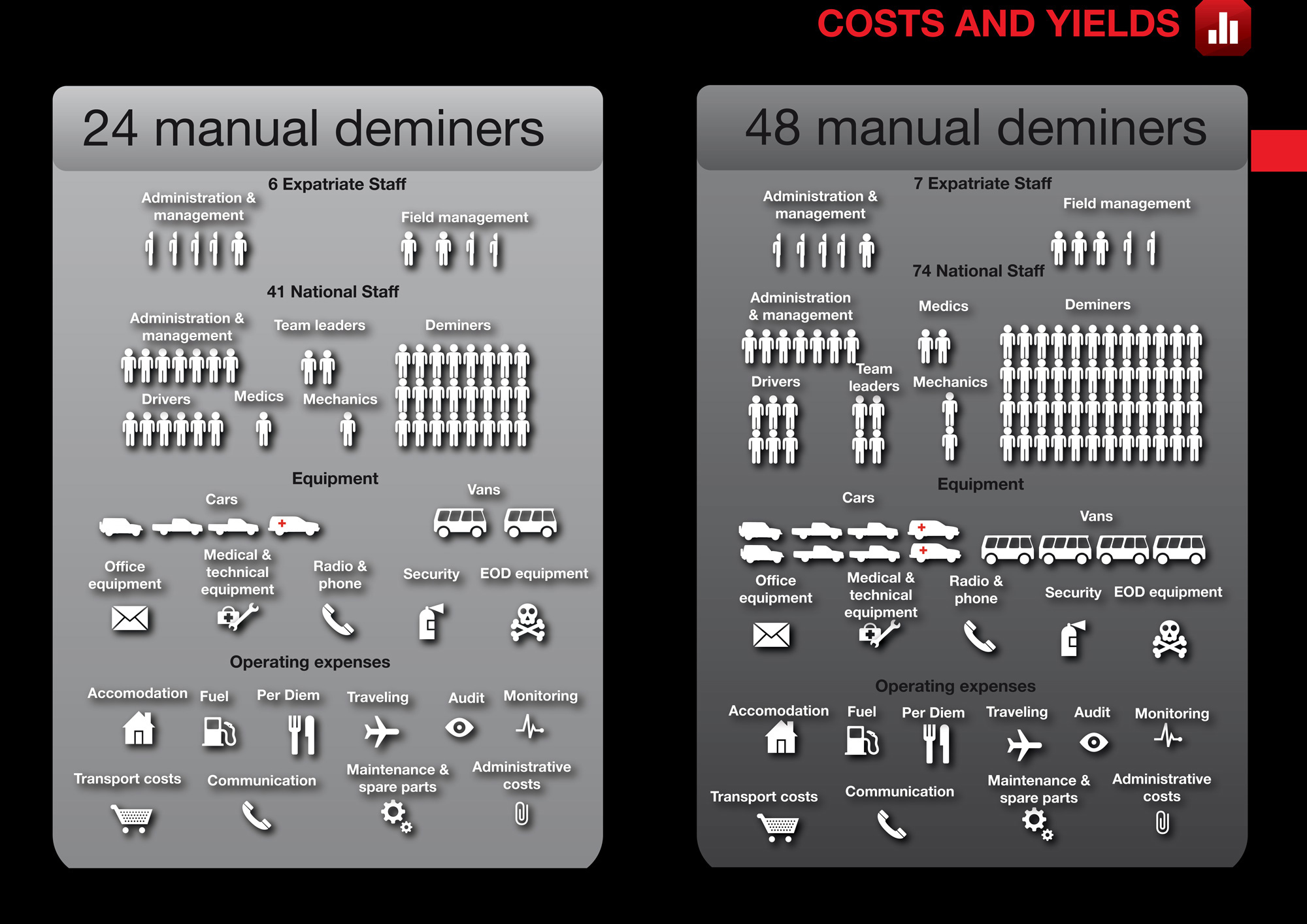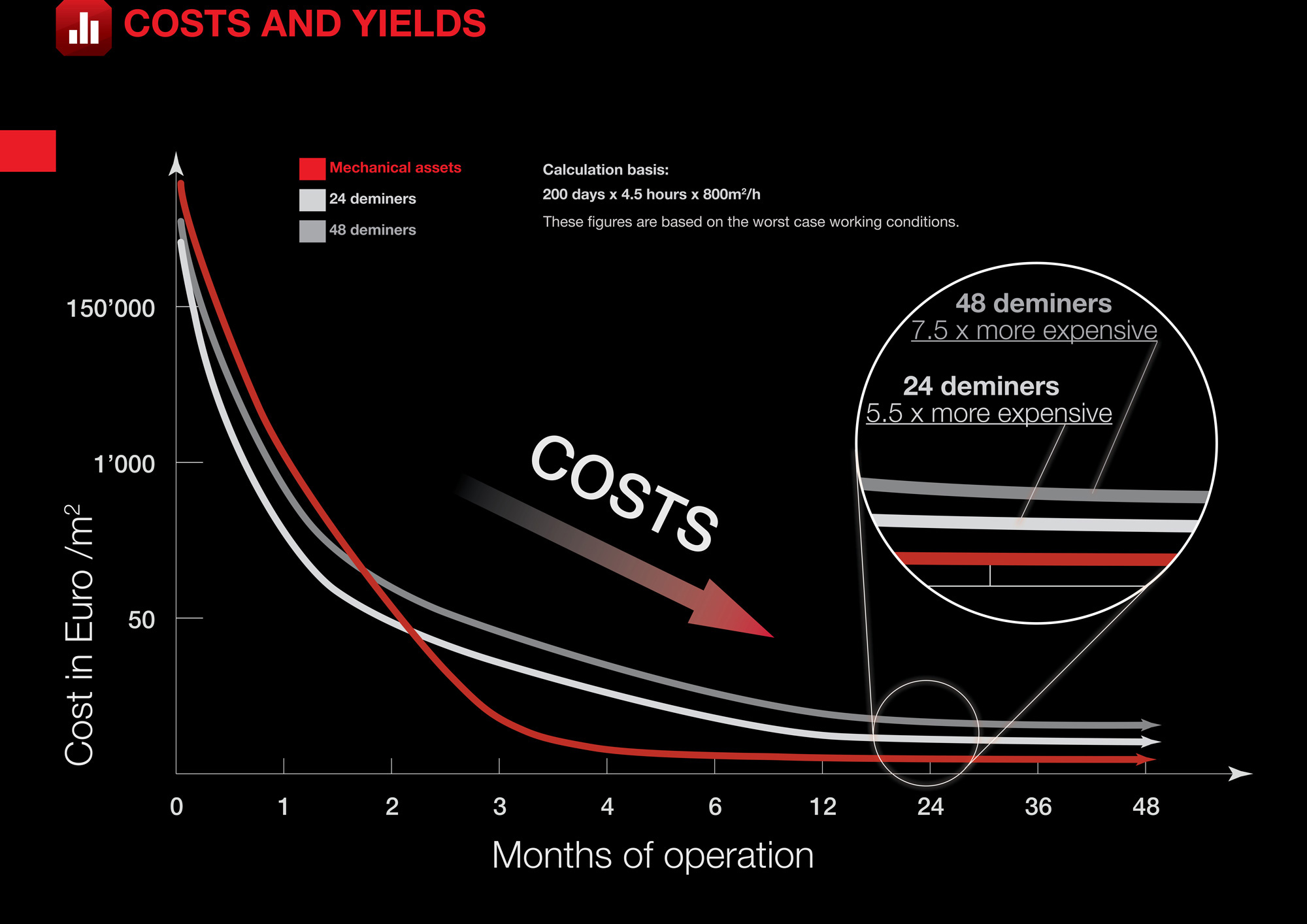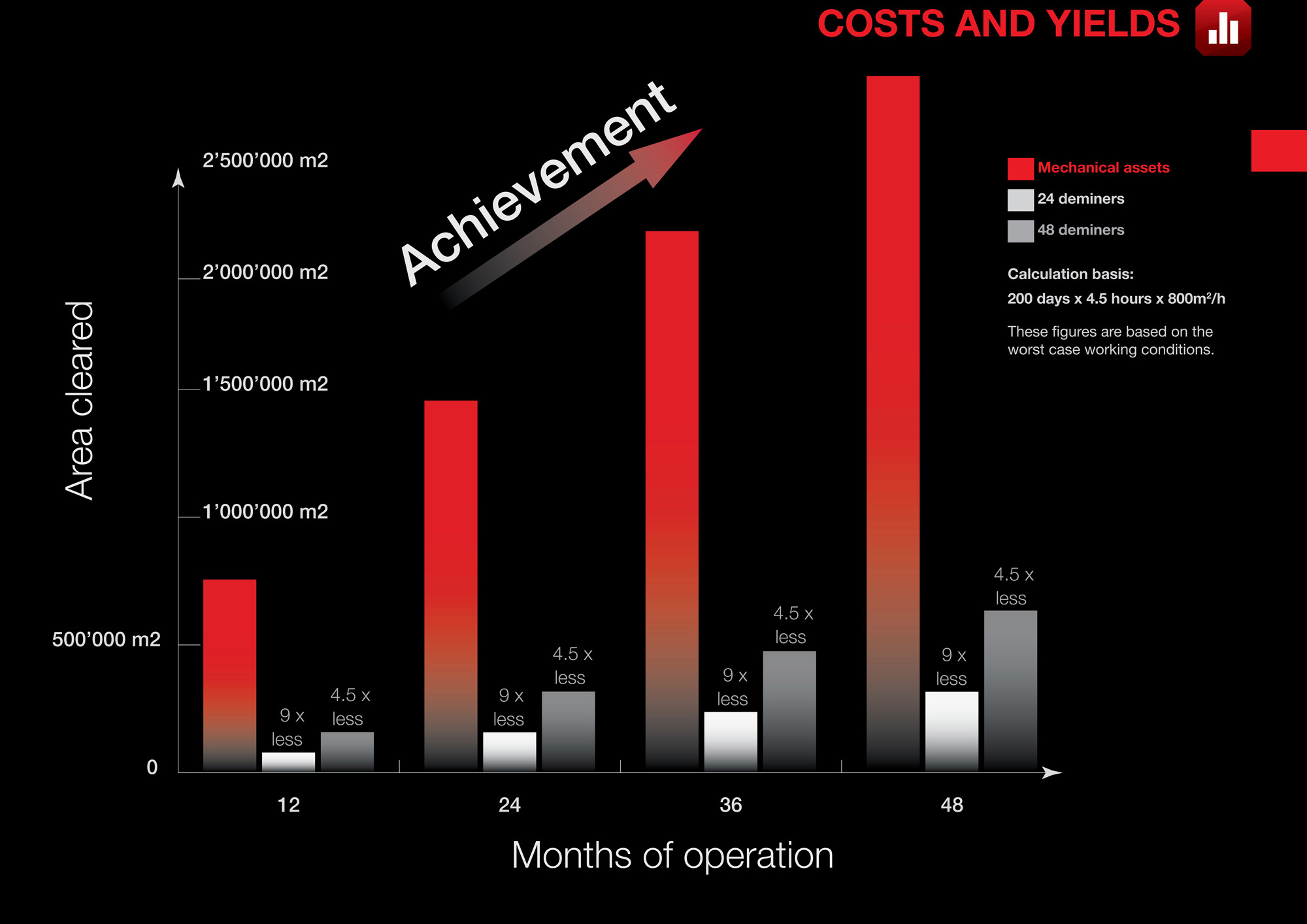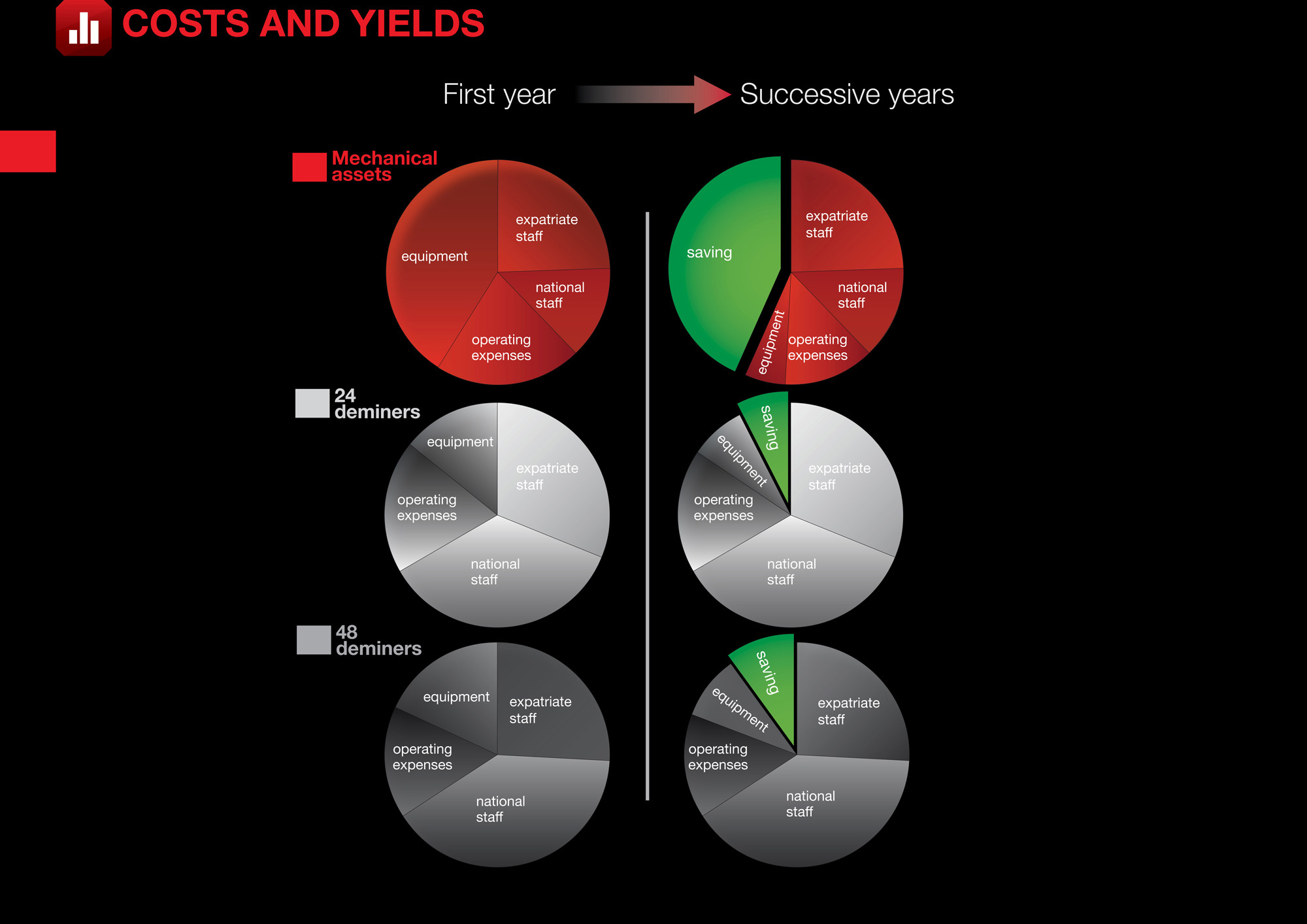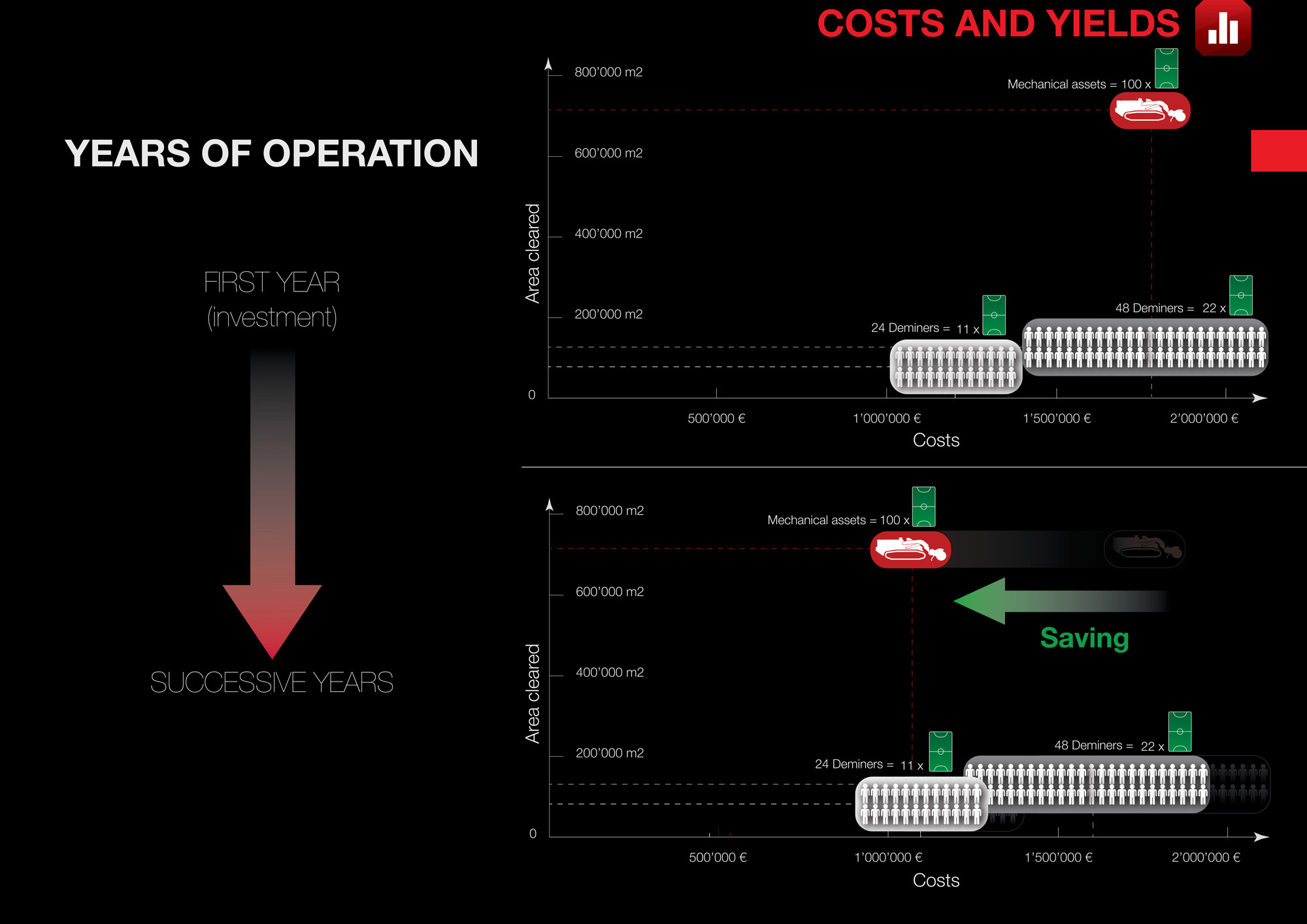 Technical data
| Weight and dimensions | |
| --- | --- |
| Weight of vehicle [without tool] | 9'790 kg |
| Weight [with demining tiller] | 11'910 kg |
| Overall width of vehicle [without tool] | 1'690 mm |
| Overall width of vehicle [with demining tiller] | 2'320 mm |
| Overall length of vehicle [with demining tiller] | 5'755 mm |
| Height | 2'041 mm |
| Can be transported in a 20′ container | YES |
* The full technical data sheet can be found in the brochure.
DIGGER D-250 in action